Using Medicaid and Protecting Your Assets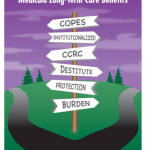 How to pay for long term care as a senior when you need it can be an overwhelming challenge. Most of wait until it is a crisis to address the question. This approach can result in less than satisfactory results.
Planning far enough in advance has many advantages including protecting your assets, placement in a care community of your choice and stress relief for your loved ones.
Our friend, Aaron Paker, attorney and Medicaid expert has helped over 500 seniors and their families successfully navigate the maize of regulations that administrators use to qualify and approve Medicaid recipients. This process is very complex and in my opinion you would want the best expertise to help you complete the process. Aaron is holding a free, education packed event to help people with questions about Medicaid and other long term care concerns. Attendees will receive a free copy of Aaron's book entitled: "A Washington's Resident's Guide to Medicaid Long-Term Care Benefits".
To view the first of two interviews with Aaron visit https://www.silverbridgeseniortransitions.com/posts/what-every-adult-needs-to-know-about-medicaid/
To reserve your spot you can email [email protected] with the names of all the people who would like to attend and we will forward that to Aaron Paker.
Details of the event are below: